On September 28, 2013 We will be participating in the The Greater Avery Tour de Art a day long tour of 13 Artists studios and galleries. Take a walk through our beautiful sculpture garden, explore the sites and the sounds of the metal studio and take in all the gallery has to offer. The greater Avery Tour de Art takes place the 4th Saturday of every month from now through October.
Tour de Art Dates:
September 28 2013
October 26 2013
Upcoming exhibitions:
We are happy to announce that Bill's The Mediator has been chosen as a finalist for the "Out Of The Box" outdoor sculpture competition at Auburn University juried by Robert Stackhouse. The exhibition runs from October 4,2013-October 2,2014 and will display sculptures by artists from all over the country.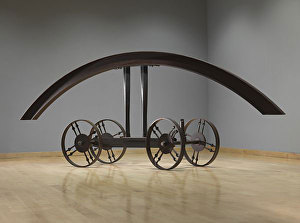 The Mediator
73"x 186"x34"
2011 Marks the 30th Anniversary of Bill's Anvil Arts Studio in Linville Falls.
Busy making sculpture, creating commission work and all the activities of life.
Current Projects:
A commission for the Blowing Rock Art And History Museum.
Collaborative work with Rick Beck combining cast glass and steel.
2011 Exhibitions
September 24 - December 31, 2011 Hilton Head, South Carolina: Public Art Exhibition, Coastal Discover Museum, Honey Horn Plantation on Hilton Head Island.
June 2011- May 2012 Chattanooga, Tennesee: RIVER GALLERY This show includes interior work in the gallery from June 1-30 2011 and four larger works in the incredible sculpture garden over looking the river from June 1, 2011 through May of 2012. A must see wonderful arts district with the gallery, Hunter Musuem, Tennessee Aquarium (a beautiful experience), antiques and great restarants all easy to reach and enjoy.
2010 Public Art Exhibits

BRIDGES TO COMMUNICATION
It was a wonderful exhibition at The Turchin Center and it was a great venue to see the work displayed in an interior space. I appreciated all the people who came from near and far to celebrate with me and see this work. I was honored by the many comments and compliments on these sculptures and please that it seemed to resonate with others. I was also happy to introduce some new visitors to the The Turchin Center.

We would like to cordially invite you to a special celebration honoring Sculptor, Bill Brown

Bridges to Communication
Saturday, June 12, 2010
6-9 pm

This special event honoring the artist and his exhibition will be held in lieu of Bill's annual studio show.
R.S.V.P. requested / Casual Attire
828-262-3017

Works are featured in Gallery A & Plaza at The Turchin Center for Visual Arts at the Appalachian State University
April 2, 2010 - July 31, 2010



Turchin Center for the Visual Arts
Appalachian State University
Boone, NC
April 2, 2010 - July 31, 2010

Click Here for More Info

"Bridges to Communication"
Exhibition Calendar
April 2 - Opening
April 21 - Lecture by: Bill Brown
June 12 - Artist Reception 6-9pm @ TCVA
July 2 - Summer Exhibition Celebration